The article about using Yahoo Pipes for Twitter ammo deserves an update. When I wrote it (june 2009), Google had not announced they would be listing Tweets on their frontpage.
I was curious if Google list tweets from an pipes account. The specific pipe does use Google News and other trusted news sources for it's feed, so Tweets should rank high in relevance to the keyword, but I wasn't sure Google allow automated accounts to hit the frontpage in Search.
I typed in "microfinance twitter" at Google Search and got this as result :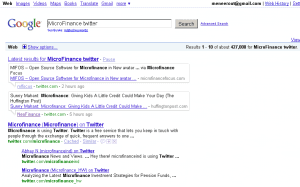 There she is : @NeoFinance, one of my accounts that runs on a Yahoo Pipe.
The account itself is small, 750 tweets, it follows 60 accounts, and has 125 followers, mostly microfinance related. No automated following scripts, just the pipe. I had it offline for a few weeks but restarted it last week.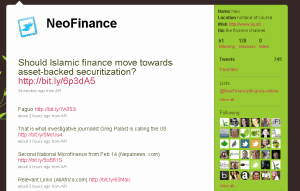 Google do seem to consider Pipes-accounts acceptable.