I got a free year license Lumen5 over at Appsumo. Lumen5 are giving away 50.000 year licenses in the Appsumo Black Friday extravaganza. Lots of discounted programs over at AppSumo, discounted services, startups with new business tools. It is worth having a look at.
And now Appsumo are offering free year licenses of Lumen5, a video editing tool.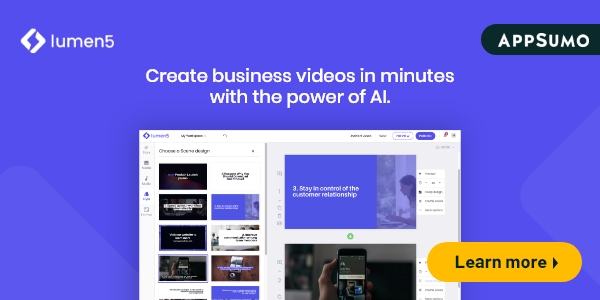 Lumen5
Lumen5 works very simple. You can feed Lumen5 a URL, it will extract the text from the HTML-page, and at the touch of a button, you can have Lumen5 turn the text into a video. Well, Lumen5 tries. I fed the program my About page, and it extracted all the texts, it also keeps the headers intact, and turns parts of the text into video scenes, then it finds foto's and videos based on keywords in the text. It builds an entire video made of such scenes. But it isn't perfect yet. I think my text was a bit too long, as the program processed less than half the About page. Doesn't matter that much, I did the rest myself, adding scenes, adding text, chosing video material and chosing the scene design. The program has a very short flat learning curve. Lumen5 has a very intuitive user interface, anyone can easily learn to use it and produce their own video's, very fast.
Social Media Video Marketing
You seriously want this freebie for marketing vid's and video-content for microblogging on social media like Facebook, Instagram or Twitter. Everyone wants video-material on the web these days. You can choose different formats, depending on your target channel, 16:9 for the Facebook Timeline and Youtube, other formats for Instagram.
I turned the About page into a short video in less than an hour :
I will admit, it could be more flashy, but for an hour work on a new platform, I think it is more than good enough.
Get your year free license of Lumen5 !