Daghandel op Plus500, 90% verliest zijn geld, 10% haalt break-even en 1% verdient er flink aan. Als je begint hebben ze een demo-account voor je, met 20.000 euro, dan kun je eens kijken of jij bij die 1% zit die er rijk van worden.
Al doende leert men. Ik heb zelf eerst twee jaar op Bittrex gezeten in de cryptocurrency markt. Dat is een goeie leerschool. Crypto rekent doorgaans met 8 cijfers achter de komma, daar kun je zelfs met 10 cent al aan de slag. Dan loop je je wezenloos druk te maken als de koers 10% zakt (dan ben je uiteindelijk 1 cent kwijt), en ga je in paniek verkopen. Ach, vaak herstelt zich dat later wel weer. Dat heb je in het begin, dan zit je met je neus er boven op, en reageer je op elke koerswijziging. Later wordt je wat rustiger en ga je meer op de lange termijn denken.
Je moet het toch ergens leren. Het principe is hetzelfde.
Er zitten (natuurlijk) fundamentele verschillen tussen de aandelen markt en de crypto-markt. De crypto-markt is veel kleiner dan de aandelen markt. Als er op Bittrex actief 2000 man aan het handelen zijn, dan ben je er wel. De aandelen markt daar zitten miljoenen mensen tegelijk op te werken. Crypto heeft geen 'onderliggende waarde'. Bij aandelen zit er  een bedrijf als 'onderliggende waarde' aan vast, bij indexen een cluster aandelen.
Bij CFD's ("contract for difference") is de aandeel- of index koers de onderliggende waarde, in die zin is dat meer verwant aan de crypto-markt of optie markt dan de aandelen markt. Uiteindelijk kan je er allerlei dure woorden voor verzinnen, maar CFD's is speculeren op koersverschillen, en het meest gangbare woord daarvoor is 'gokken'. Gokken gaat altijd beter als je meer informatie hebt.
Vandaag gaan we gokken op Palladium. De 'futures' van Palladium (tegen maart 2017) staan op 738, de huidige koers op 727, de koers is net flink gekelderd van 734 naar 727, en er vindt een reversal plaats, dus dan gaan we gokken dat de koers omhoog gaat, uitstekend moment om in te stappen :

Daarbij heb ik (netjes volgens de handleiding van Plus500) een 'stop loss' op 725 gezet en 'take profit' op 733. Dan kun je rustig de tuin gaan harken. Als de koers beneden de 725 daalt, neem je automatisch je verlies. Als de koers boven de 733 gaat,  neem je automatisch je winst.
Eens kijken wat het doet, ik gok dat de koers omhoog gaat…
[half uurtje wachten]
…en dat doet hij ook :
Dus daar maakten we uiteindelijk € 12.39 winst op 10 eenheden Palladium (730.03 – 728.64).
Nu ben ik redelijk snel uitgestapt, dan vind ik het interessant om te kijken wat de koers verder doet :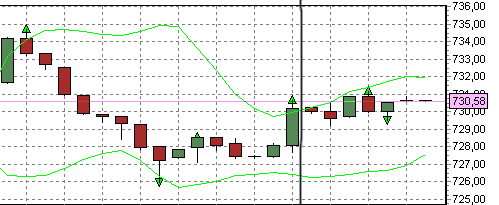 De "bulls en bears" komen er niet uit. De koers blijft rond de 730 fluctueren, met een heel lichte opwaartse trend, dus het was achteraf een mooi moment om uit te stappen.
Eens kijken of er nog meer te verdienen valt…