Hands on test, Microsoft Word 2010 supports publishing a document as WordPress blog post, excellent. I have been sailing for a while, so I haven't played around with it yet. I love what Microsoft made. They did not just add an XML-RPC post routine, they added a small editor in Microsoft Word itself, especially for blog posts. It is everything you ever wanted but the WordPress editor just never was. You can manage content you already posted, publish directly or as draft, you can cut and paste screenshots, pictures, excel sheets and access tables, it is such a total improvement.
How to set Word up as WordPress editor ?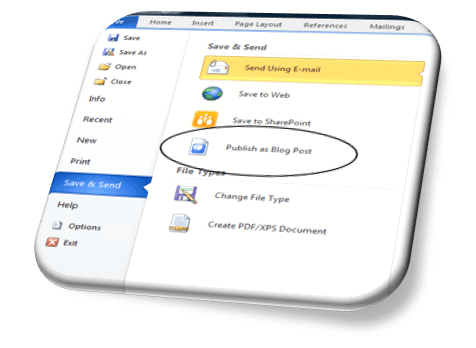 Make a document and pick from the File menu "Save and Send", and you get an extra option to publish as blog post.
Once you pick that it opens an editor for blog posts, that pn the background uses the XML-RPC interface. Word starts a wizard the first time, that you can also access by "manage accounts" in the editor menu :

But let's start by clicking Save and Send : Word will ask you to register an account, iow your wordpress blog website.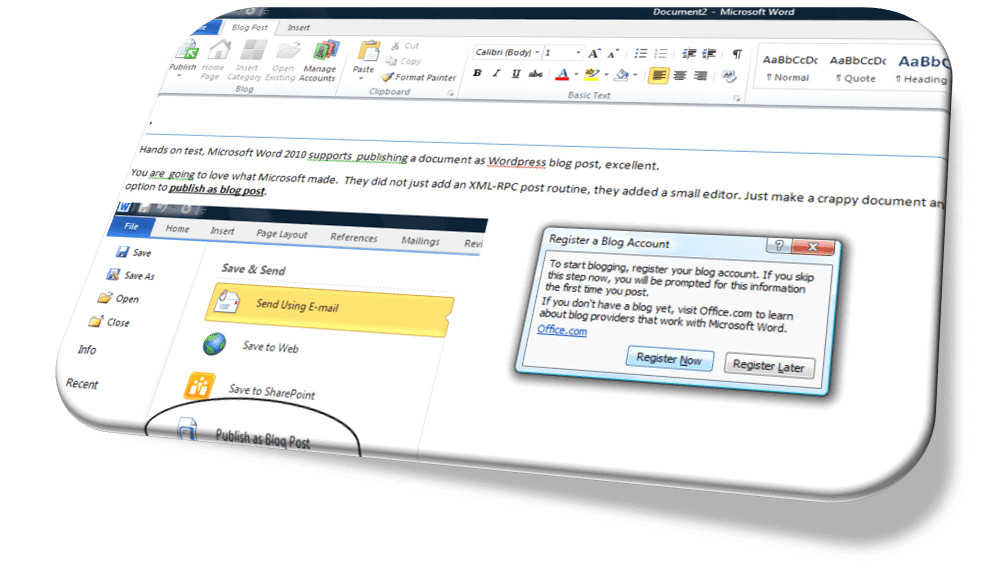 When registering you can pick from a whole list of blog types, of course I picked WordPress
In the dialog 'new wordpress account' you enter your XML-RPC end point, the directory of your blog with /xmlrpc.php, that is where you can post to your blog. Username and Password can be your normal username and password, you can also register separately at the blog. That would be my choice.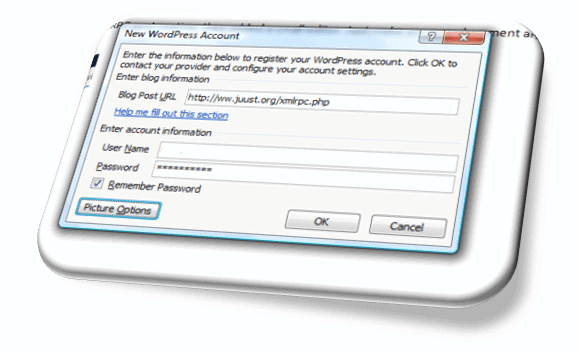 Of course these days blog posts all have pictures, and in the account dialog in the lower left corner there is a button "picture options" where you can specify how you want uploaded. You can use an FTP upload but in my case picking the blog provider (iow let WordPress handle it itself) works out of the box.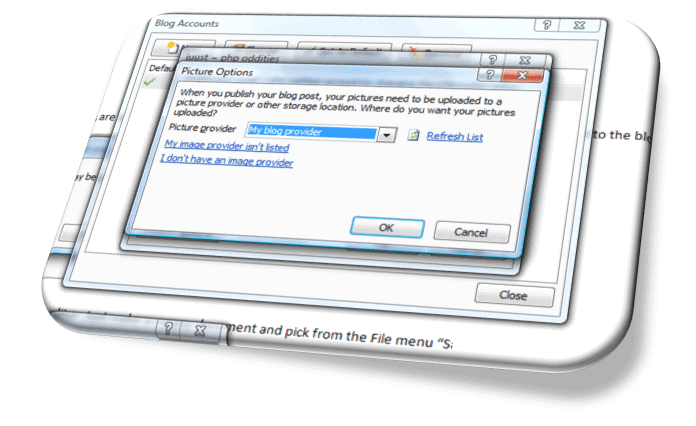 Once you click OK you also get a warning about the visibility of your login and password, XML-RPC posts are text files and your account user name and password are not encrypted when sent to the blog XML-RPC endpoint. There is little risk in it but it is a point that has to be made.

When you agree to continue you can edit your post. And when done, publish.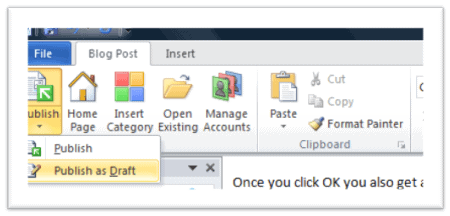 …and out came this post. In the WordPress editor you can add some tags and categories if you publish as draft, but you can also specify a category in the  Word editor..
Word offers a lot of picture effects yet it outputs the result as  .png images so it works without css3 dependencies, and outputs very clean html markup. Just for the picture effects and total ease of editing it gets a 5 out of 5.